Saltwater Fish Report for 9-28-2018
Can I Use a Live Well for Lobster?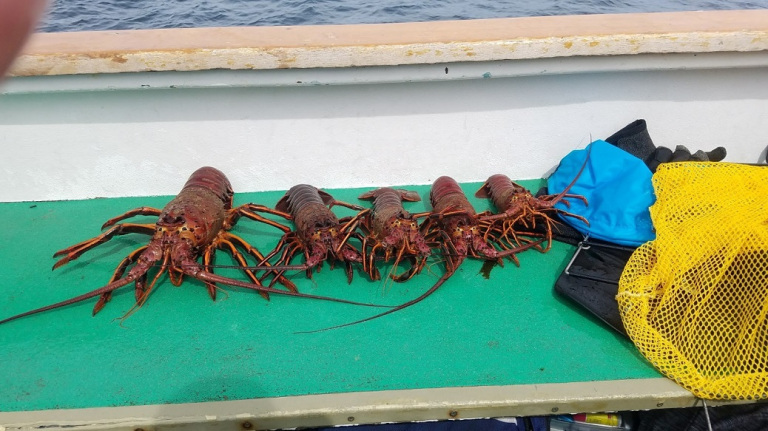 Spiny lobsters, courtesy of CDFW.
Question: I'm new to lobster diving and have a couple of questions. We are planning an overnight trip to Catalina and are planning on diving one night and then an early morning dive the next day. Are we allowed to keep our catch in an underwater live fish box to keep our catch alive? Would we also be allowed to share the underwater live fish box with other divers in our group? (Joseph)
Answer: California's spiny lobster sport fishery will kick off at 6 a.m., Saturday, Sept. 29 and will continue through March 20, 2019.The use of live wells or bait tanks for the purposes of preserving your catch on a vessel is not prohibited. Commingling the catch of lobsters is allowed. The daily bag limit for lobster is seven per person and an individual may not possess more than seven at any time except when a valid declaration for a multi-day trip has been obtained. The minimum size is 3 and 1/4 inches measured in a straight line on the mid-line of the back from the rear edge of the eye socket to the rear edge of the body shell. All lobsters shall be measured immediately and any undersize lobster shall be released immediately into the water. Divers shall measure lobsters while in the water and shall not remove undersize lobsters from the water. Hoop netters may measure lobsters out of the water, but no undersize lobster may be placed in any type of receiver, kept on the person or retained in any person's possession, or under his or her direct control.
All hoop netters and divers must possess a sport fishing license (except those under 16 years old or anyone hoop netting from a public pier), lobster report card and a measuring device (California Code of Regulations Title 14, section 29.05(c)) when taking lobsters. Prior to beginning fishing activity, the cardholder must record the month, day, location and gear code on the first available line on the report card. When the cardholder moves to another location code, or finishes fishing for the day, they must immediately record on the card the number of lobster kept from that location (as per CCR Title 14, section 29.90).
Additional sport lobster regulations and general fishing information can be found in the California Spiny Lobster Fishing brochure. Also, make sure you're aware of the Marine Protected Area boundaries and restrictions at Catalina Island and other locations in southern California.
Dungeness season opener
Question: Could you confirm when the Dungeness season starts for 2018? (Anna)
Answer: The statewide recreational season is scheduled to start on the first Saturday of November, which this year would fall on Nov. 3. We do not yet have any information on domoic acid levels in Dungeness crab. That information will be released by the California Department of Public Health in October. Health advisories and closure information can be found at www.wildlife.ca.gov/Fishing/Ocean/Health-Advisories.
California Spiny Lobster.net © 2023. All Rights Reserved.
Website Hosting and Design provided by TECK.net
Fish Database content provided by the Fish Reports Network.